Moving is a very exciting time and it requires a great deal of organization as you transition from one home to another. Whether you will have more or less space at the end of your move, you are certain to have items that you will no longer need when all is said and done. It's also a good idea to only pack the items which you need or want for your new home. Why bother to pack, store, and move a bunch of stuff that you haven't touched in the last 3 years?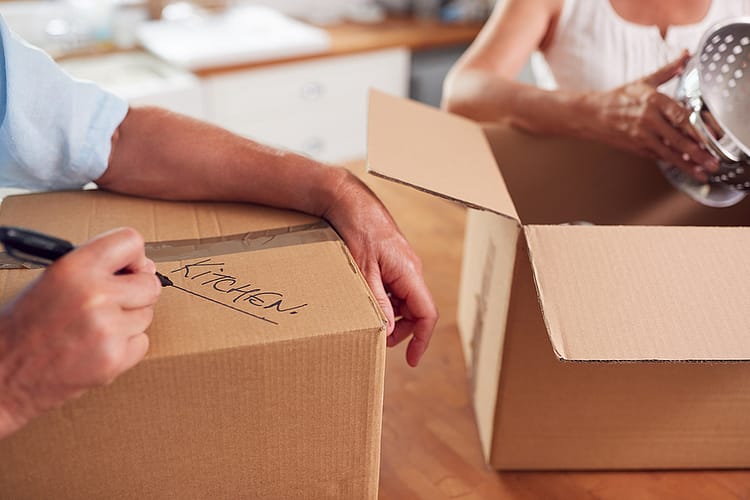 What to Declutter Before a Move
If you're planning a move soon, there is no better time to start decluttering. The earlier you can start getting rid of things, the better.
If you're wondering what you should declutter before a big move, the simple answer is EVERYTHING.
Closets
Bedrooms
Bathrooms
Kitchen
Garage
Laundry Room
As you take each item out of the drawer or off the shelf to pack it, think about how often you use it and if you love that item. If you never use it, it's a good item to get rid of. If you're keeping it because it has sentimental value, consider if you could hold on to the memories that item provides in another way – such as pictures, instead.
Here are a few things to consider as you go through items:
Do you love this or need it? Have you used it in the last year?
Will you need the same wardrobe you have now or will it change?
What about your furniture? If you're going to a different area of the country, will the decor style remain the same?
Are you downsizing? If so, what rooms will you no longer have in your home? Will you eliminate a garage or storage shed? What about kitchen space and extra bathrooms or bedrooms?

What To Do with the Stuff You Declutter
As you decide to get rid of stuff, you also have to decide what to do with it. There are typically 3 options:
Sell it
Give it away
Throw it away
Each of these options comes with a varying degree of complications and sometimes even risks.
Selling items can be very rewarding and give you some cash in your pocket, but it can also be rather time-consuming and isn't realistic for everyone. Your items need to be in very good condition to be sold and should be desirable to others. If items only sell for a few dollars, you probably don't want to spend half a day cleaning, writing about, and photographing items, especially if you have lots to sell.
Giving items away may involve local donation centers or even people via free websites. This can be just as time-consuming as selling if you list items individually, which is not possible if you are getting rid of lots of items at once. A charity like Goodwill may be willing to pick up your donation if you have a lot of high-value items available.
The most simple option for most, especially due to the time crunch of moving, is throwing things away. If it will fit in the trash can, your weekly service offers lots of opportunities to get rid of your junk. Or if you've got more than will fit in your bins at once, start a junk pile. Once you've gone through everything in your house, you can load these items up and take them to a recycling center. Or you may want to bring in a junk removal professional like Junk Masters to get rid of everything at once and even do a moving day junk removal service.
Does the thought of decluttering all the rooms in your home make you feel overwhelmed? Is there just too much? If you need assistance in reducing and decluttering, Junk Masters can help. We offer hoarder help for more advanced situations. Reach out today for your free quote to gain your space back at 317-456-2055.