Are you on a mission to declutter paperwork?
Old documents and papers can take up a lot of space and often be a burden to sort through. Have you ever stop to think how heavy paperwork is? We can tell you from experience that it's VERY heavy…and if you save every piece of paper that you receive for over 50 years, it will build up quickly!
If you are ready to declutter paperwork in your home or office, you may have a lot of questions. For example, how do you even know to keep and for how long? What do you do with the stuff you are keeping? And what if you have a room of filing cabinets you've just emptied and need to get rid of??
Have no fear! If you have found your way here because you need to rid of all those excess pieces of paper, below you will find our comprehensive list of what you need to keep forever, what to keep a short while, and what to toss fairly quickly.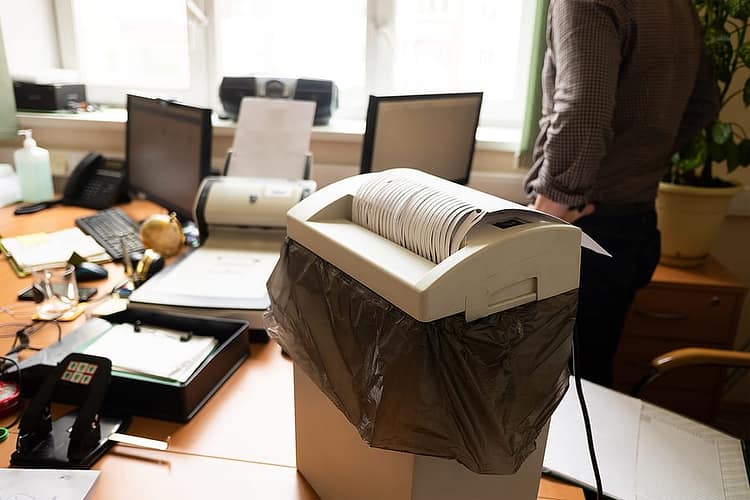 Guide to Declutter Paperwork
KEEP FOREVER
Tax returns
Major financial records
Birth and death certificates
Social Security cards
Marriage licenses
Divorce papers
Military discharge documents
Life insurance policies
Wills and living wills
Mortgage documents (for the life of the loan)
KEEP 3-7 YEARS
Supporting tax documents (W-2s, 1099s, etc)
KEEP 1 YEAR
Bank statements
Credit card statements
Pay stubs
KEEP 1 MONTH
Utility bills
Cell phone bills (unless needed for tax reasons)
Deposit or withdrawal slips
Deposited checks
In most cases, you will want to shred any paperwork you get rid of to protect your identity and personal information. You can invest in a high quality cross-cut shredder or hire a shredding company if you have a lot of shredding to be done. Shredding companies will often pick up large loads for you or you can bring them to a shredding location for destruction.
Want to get rid of all the papers and paper storage stuff? Digital copies of things are just as good as print copies nowadays. So archive those tax records and other important documents by scanning them into your computer. You can also use a cloud-based option like Dropbox to store and organize your digital copies. That will provide you the advantage of being able to access your important documents anywhere in the world – or even after a catastrophic event at your home which may have destroyed originals.
Now that you know what you need to keep and what can be discarded, are you ready to declutter paperwork? If you are processing many file cabinets worth, consider working through the task one drawer at a time or in 15 minutes spurts so it doesn't become too overwhelming. It will also allow time to space for shredding of the documents.