Over the last year, Junk Masters Inc has had the pleasure of completing multiple projects with a local property manager who manages over 40 of their own rental properties in Hamilton County. One of the properties had recently been vacated, leaving behind some old furniture and trash, and the home was undergoing renovations, producing a  significant amount of construction debris and other trash in the garage. The property manager contacted us to schedule a junk removal appointment, and our team of experienced specialists was able to promptly address the situation.
We arrived on-site and assessed the situation, noting that the majority of the debris was located in the garage and backyard. We quickly got to work, carefully removing all of the carpet and other debris from the garage. Our team worked efficiently to ensure that the garage was cleared out in a timely manner, so that the property renovations could continue and the home could be put back on the rental market as soon as possible.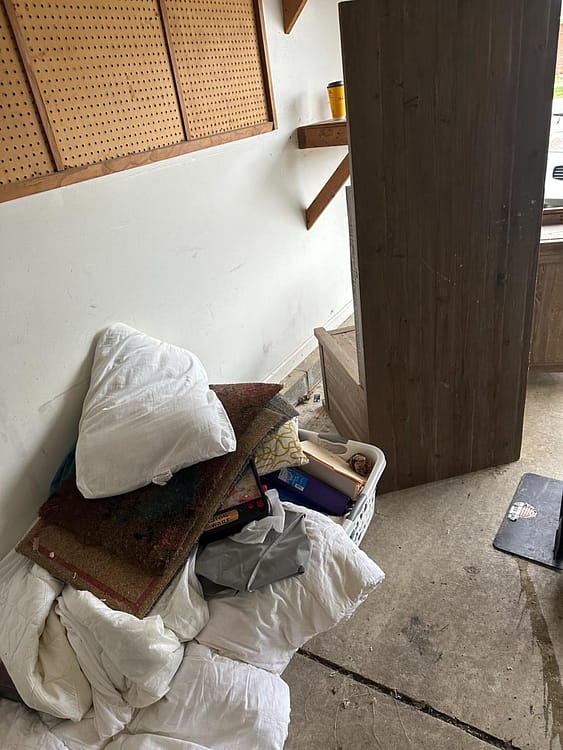 After initially walking us through what needed to go, the client left our team onsite to finish the job. Upon completion, we provided a text update and images to confirm that everything was completed to the client's satisfaction.  Our goal was to make the junk removal process as easy and stress-free as possible for the property manager, and we were happy to provide a customized solution that met their unique needs.
At Junk Masters Inc., we take pride in our ability to handle even the toughest junk removal projects. Our team is experienced in handling carpet, construction debris and other types of bulky waste, and we have the necessary tools and equipment to get the job done quickly and efficiently. We understand that construction projects can create a lot of waste, and we're committed to helping our clients keep their properties clean and clutter-free.
If you're in need of construction debris removal services in Carmel, IN or the surrounding areas, don't hesitate to give us a call. We offer free estimates and competitive pricing, so you can trust that you're getting the best value for your money. Let Junk Masters Inc. take care of your junk removal needs, so you can focus on completing your project on time and on budget. Call or text us at 317-456-2055.