Has a tenant left a few things behind at your property? Do you have a property or warehouse in need of a commercial property cleanout service? Junk Masters is happy to offer commercial warehouse and property cleanouts as well as residential cleanouts. Don't stress about that cleanout project – call in the pros!
Warehouse Cleanout in Noblesville IN
In a recent commercial cleanout project we completed in Noblesville, our client was left with a warehouse full of discarded clothing. After quick inspection, we found that most of the items were unusable with stains, tears, and many otherwise undesirable used unmentionables. It almost seemed as if the clothes had been filtered through for quality items, and only the discards remained. We thought these items might have been considered for sale as clothing bales for pennies a pound — but it looked like the tenant's textile baling business had been abandoned before that could happen.
There was literally a mountain of bags and bundles of clothing in this commercial warehouse, taller than my head. Each of the bags weighed 100-150 lbs and there was a risk of the bags starting a landslide as you tried to pull them apart. The heap and its weight was rather overwhelming if one was going to move it by hand — and these were not items that any resale company or donation center would want to sort through. We weren't even sure the clothing was safe or free from drugs or paraphilia since we had no idea what the origin of the clothing was.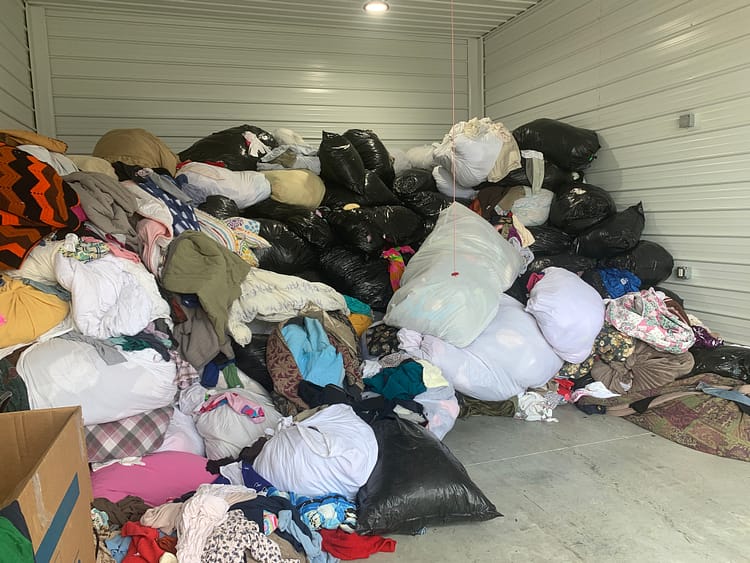 We attempted to connect with a textile recycler in the Indianapolis area that might be able to take the items in 15 cubic yard loads — but unfortunately found there were not any. So instead we transported all of these textiles away to the nearest transfer station. And from there, it is burned up into energy at a local power facility in Indiana. It's recycling at its finest.
Our Commercial Property Cleanout Strategy
It was clear from the start that completing this project by hand was going to be backbreaking and take forever. At Junk Masters, we utilize top-of-the-line equipment to complete your junk removal project. In this case we needed our 15 cubic yard dump trailer and our Bobcat MT100 mini-skidsteer. These powerful tools allowed us to eliminate 90 cubic yards of textiles which weighed 12 tons in no time!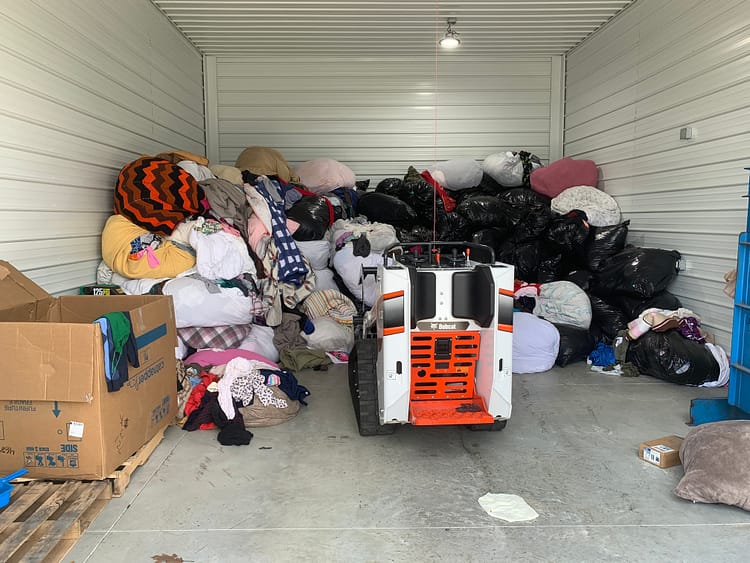 Within just a few days we had this commercial warehouse cleaned out and ready to be put back on the market. Our licensed and insured junk removal professionals eliminated the piles safely,  efficiently, and responsibly. Junk Masters has full commercial liability insurance and never illegally dumps the items we remove.
Don't let mountains of trash, furniture, or debris prevent you from getting your rental back to making money. Get the professionals at Junk Masters to eliminate all your junk headaches at your commercial property. Text or call us today at (317) 456-2055.