When a loved one has passed and it's time for an estate clean out in Indianapolis, you are probably feeling like many others in the same position: stressed. There is a lot that you need to take care of and sometimes all of those tasks can be overwhelming. But you don't have to do it alone.
The list of things to do to click off your estate clean out probably seems long:
Sorting through items
Looking for paperork
Delivering donations Finding a reputable estate sales company
Taking out the trash
But did you know the pros at Junk Masters are trained to make the estate cleanout process easier for you?
Click here to learn 10 Essential Tips for Clearing Out a Loved One's Estate and how Junk Masters can help
Our client had recently lost her mother who had been living in her townhome for about 20 years. For some years, her mother had simply visited the property on a regular basis because she was living in a senior living facility and the home was full of a lifetime's worth of items.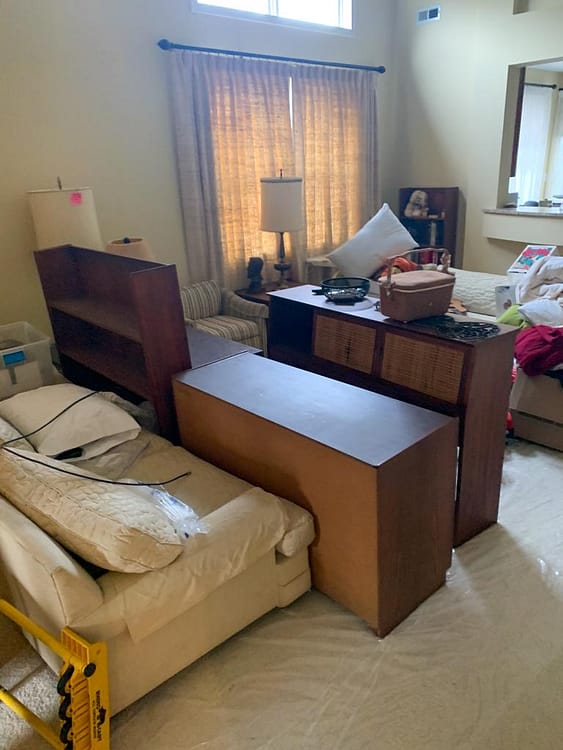 Her estate clean out in Indianapolis was off to a great start and she'd already done much of the hard work. Clothing, books, personal household items, and most other small items had already been removed from the property. She just needed a hand getting rid of the large items like furniture that wouldn't fit in a standard-sized car…and an upright piano. She had already reached out to local charities for an appointment. While they were able to schedule her many weeks out, they wouldn't guarantee that they'd take all the items.
Not wanting to be left with a bunch of extra hassle during this already complicated estate cleanout in Indianapolis, the client opted for the easy track. Instead, she called Junk Masters to ensure that everything would be removed in a timely manner. And it certainly was!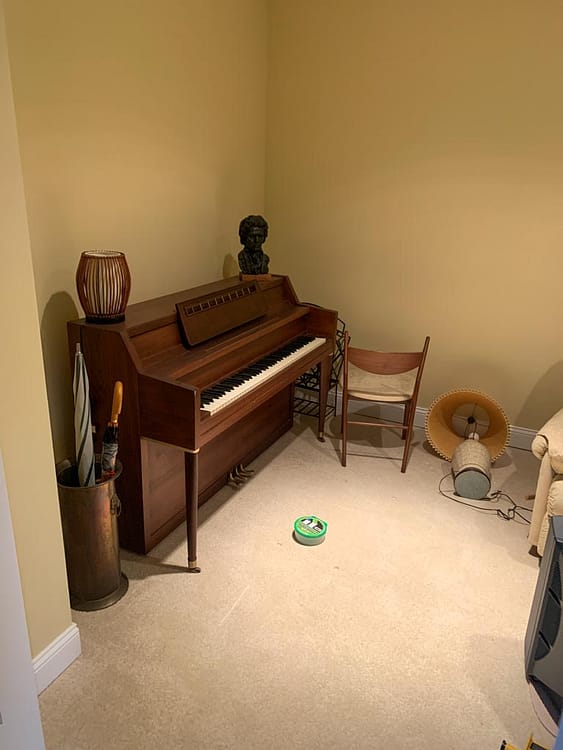 A Big Challenge
Pianos are still very popular in homes, but they are harder and harder to get rid of. Sometimes a church or school has classes or singing engagements that are a great use for a standard piano. But most homeowners no longer want them due to their weight — and even commercial locations have limited space for items that may not get used. So, unfortunately, many pianos that we remove find their way into the trash heap instead of finding a new home.
In addition to the upright piano, the home had some other older furniture like sofas, credenzas, and dressers. Many times we are able to recommend one of our estate sale or auction partners to the client so that items in great condition are able to be rehomed. We find more and more often that donation centers are overwhelmed with items, especially if we bring them a truckful of items at once. So we do try to coordinate large dropoffs ahead of time whenever we can so that they are more likely to accept items.
The garage also had quite a few items that needed to be taken care of, from storage boxes and old luggage to old car seats and a garage door opener with the ceiling mount that had been replaced years ago.

Oftentimes, when we have a lot of space, we let things sit around for a while, even if we don't need them. We pile up other things around the items and just forget about them. Out of sight can truly be out of mind. And since large items won't fit in our trash cans or even the car, it's easier just to leave them to be dealt with at another time.

Completion of the Estate Clean Out in Indianapolis
The entire estate cleanout was about 30 cubic yards of furniture, electronics, and household items, or two full loads with our truck. The Junk Masters team completed this job in one day, with a single trip to the transfer station in between so we could continue removing items from the property.

An estate cleanout can be very stressful, no matter where you live and how much time to provide yourself to complete it. There are many decisions to be made and we all reach a fatigue point fairly quickly when it all sits on our shoulders. But you're not alone!


Whatever you may need help with, from sorting to junk removal, our team is up for the job and will complete it quickly and efficiently. Don't worry about how you will get it all done — just give us a call. We can schedule weeks in advance or on short notice to make your estate cleanout run smoothly.

Did you see this post and think, "Wow – I would love a piano!"
If you have the resources to move one and a place to put it, we will be happy to add your information to our Piano Contacts List. We have people contact us all the time trying to get rid of pianos but few places who are in need. Keep in mind that pianos are very heavy and have a cost of $500+ to move if you don't have a fitting trailer or van to transport them.

Get Started with Your Estate Clean Out
If you've got an estate clean out in Indianapolis that needs to be completed before your property it can be sold, renovated, or moved into, Junk Masters would love to assist. Not only do we have a strong team of people experienced in downsizing, but we also have our own mini-skid steer for more complicated outdoor pile removal or demo projects.

Junk Masters is licensed and insured, and you'll always see the same familiar faces from our team. We are an independently run junk removal business and we always treat you like family, especially during difficult times. When you want the job done right, call the pros at Junk Masters Inc.
Call or text us at 317-456-2055 to schedule an estimate for an estate cleanout in Indianapolis today.