October is SCA Awareness Month. The owner of Junk Masters, Tiffany is herself a survivor of Sudden Cardiac Arrest (SCA), so we couldn't let it pass by without saying something.
In July 2022, Tiffany unexpectedly experienced SCA and thankfully received CPR within 30 seconds of her heart stopping. Just a few weeks after the incident, she was back on her feet and on the job. She has thankfully made a full recovery with no mental or physical ailments and attributes a lot of that to the fantastic care she received during the first minutes, hours, and days of the incident.
It is crucial to take quick action in the event of SCA by starting cardiopulmonary resuscitation (CPR) or administering shock from an automated external defibrillator (AED). Calling 9-1-1 and getting someone to find an AED are important. But starting CPR can truly save a life.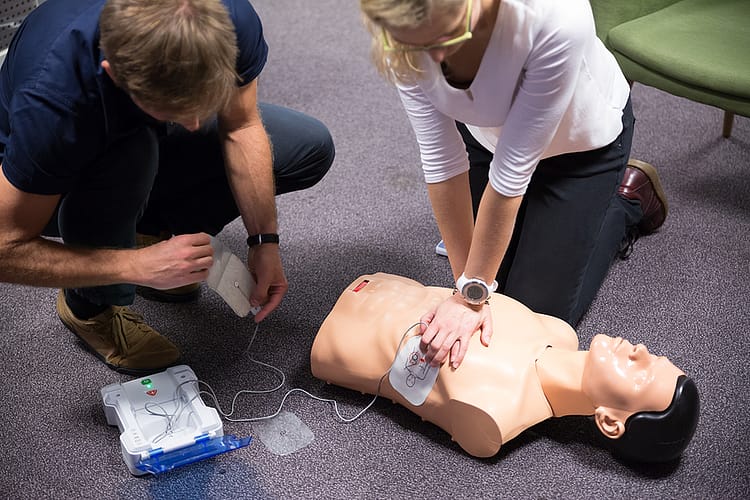 Junk Masters Donating Proceeds to Fund AEDs
Although they are life-saving, we have found that there are a surprisingly low number of AEDs accessible to the public. During October, Junk Masters will donate a portion of all proceeds to purchase AEDs. We encourage all businesses to consider having one, especially if workers are doing dangerous tasks or you have a large team.
Sudden Cardiac Arrest takes more than 350,000 lives each year and is the leading cause of death in America. Truly anyone of any age can experience SCA, including people who have no sign of heart disease.
The only chance of survival is if the victim receives life-saving defibrillation from an AED within the first four to six minutes. Every minute that passes without a shock from an AED decreases the chance of survival by 10%. Administering hands-only CPR can be a bridge to life until an AED arrives.
Make a difference and save a life. Learn CPR.