You've realized that you have a garage full of stuff to get rid of, from furniture to boxes of junk. But how? You may be thinking that surely someone will want to come and take your stuff for free? You will find many social media marketplaces loaded with ads for free playhouses, swing sets, hot tubs and more. Some of these connections work out and you have a happy transaction. But should those ads for free pickup fall through and you still find yourself with that soiled couch in the basement, what do you do next?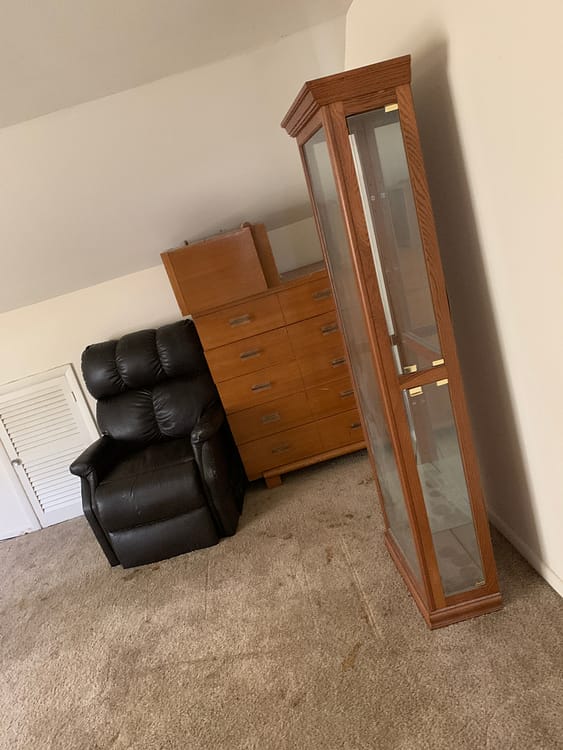 If you have access to a large truck or a trailer, you may be able to transport items away yourself. Will that be free? No. There are gas expenses, your time, and perhaps rental fees for the truck or trailer. Then, when you get to the local transfer station, there will be an additional fee. Most of them in the Indianapolis area charge $25 or more per cubic yard. It often surprises people that there is such a charge for the disposal of items – but getting rid of trash gets more expensive all the time. If you drive a king size mattress and two twin box springs to a transfer station for disposal, you will often be looking at fees of $150-200 or more for disposal.
For some homeowners, pickup from your local trash services may be an option, especially if you only have one or two things. To utilize this service usually requires reaching out to them, registering a pickup, paying an additional fee per item, and waiting for their schedule date (usually once a month for your area) to arrive.
If you're looking to be a bit more hands off, you need something gone quickly, or you're tired of moving it around (or just physically can't), professional junk removal services in Indianapolis are a great place to start. Junk Masters is one option for junk removal. When you hire a pro, you don't need to move everything again or worry with how you will transport it to the dump. Whether the items you are getting rid of are piled together or still sitting in the bedroom or basement space where you last used them, a fully insured junk removal service can carefully and thoughtfully remove them from your home without causing any damage.
Professional junk removal services are also not free. Much like removing the items yourself, we incur similar costs. What sort of costs do junk businesses face, you ask? Junk Masters is a registered corporation in Indiana and we have maintenance fees for our trailers and truck, commercial insurance fees, gas charges, and fees for disposal of your property.  Some items such as televisions, freon-containing devices, tires, and paint have additional environmental disposal fees as well.
Do you have questions about junk removal in Indianapolis? We'd love to hear from you. Leave a comment below or send us a text at 317-456-2055.