Owning less is better than organizing more!
Whether you're moving, downsizing, or just getting rid of the clutter – Junk Masters is here to help.
Getting rid of stuff in small quantities is easy. That's what trash cans are for each week. And if you only have one or two large items, your local trash service may be able to take your items with them if you schedule a pickup. But what do you do when you have enough to overflow your trash cans and you're moving away in the next few days?
This client needed some last minute help to clean up some trash during their move out process. We were called out on the day of their move to remove everything they weren't taking to their new home. With our dump trailer, we had it loaded up in no time so this client could head to their closing with one less thing on their mind!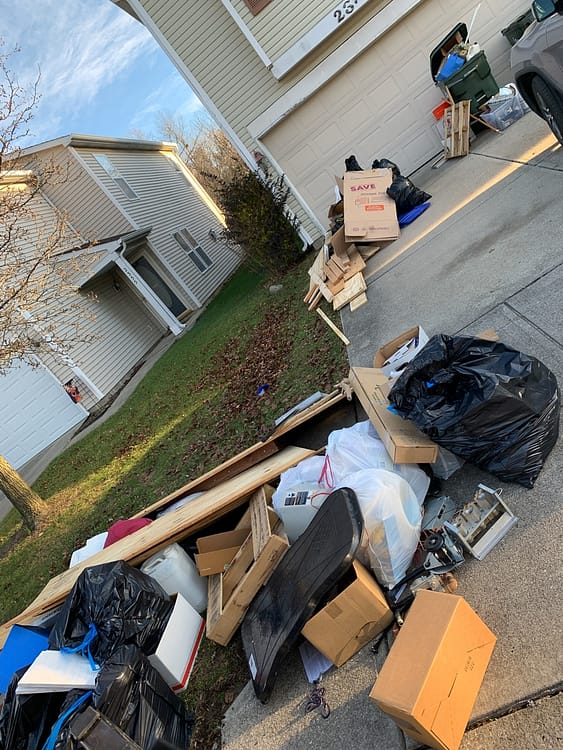 Wondering what sort of items we take? The short answer is, "Almost everything." You can find a detailed list of what we take at this link. We want to be as helpful to you as possible and have found local partners to get rid of some of the more complicated items you may need to dispose of. What exactly can we take? Here's a few items we can take:
Household trash (including bagged  food from your fridge or freezer)
Household goods and decor
Cardboard boxes and packaging
Furniture – broken or ready for donation
e-Waste, old electronics, lighting, large and small appliances, exercise equipment
Construction materials and debris
Scrap metal
That randomness taking up space in your home, garage, or yard
Don't keep putting off the inevitable. We're just a phone call or text away at 317-456-2055.